It doesn't get much easier than this. The beauty of this recipe is it's very flexible: more of this – less of that – no problem. Add cayenne or Tabasco if you like but I like it just this way, not too hot, sweet, and sticky. I've never found a bottled sauce this good! -Jenny Jones
Prep Time: 5 minutes
Cook Time: 25 minutes
Total Time: 30 minutes
Makes: 1 cup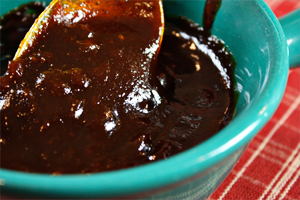 Ingredients:
2 teaspoons olive oil
1/2 cup onion, finely diced
1 clove garlic, minced
1/2 cup cider vinegar
1/2 cup water
1/2 cup ketchup
1/2 cup brown sugar
2 Tablespoons molasses
2 Tablespoons spicy mustard (I use Guldens' Spicy Brown Mustard)
1 Tablespoon Worcestershire Sauce
2 teaspoons chili powder (NOT powdered chili pepper)
Instructions:
Heat oil in a saucepan over medium-high heat and sauté onion & garlic for 2 minutes until golden brown.
Add everything else and bring to a boil. Reduce heat and cook uncovered, stirring occasionally, for about 25 minutes. Sauce with thicken as it cools.
If you want healthy BBQ recipes with natural ingredients, check out Black Health and Wealth